Bookmarks from Creative Nature
Our beautiful selection of bookmarks feature exquisite images from each of our three ranges. If you like the natural look, high contrast black and white or fun and funky – there will be a selection for you.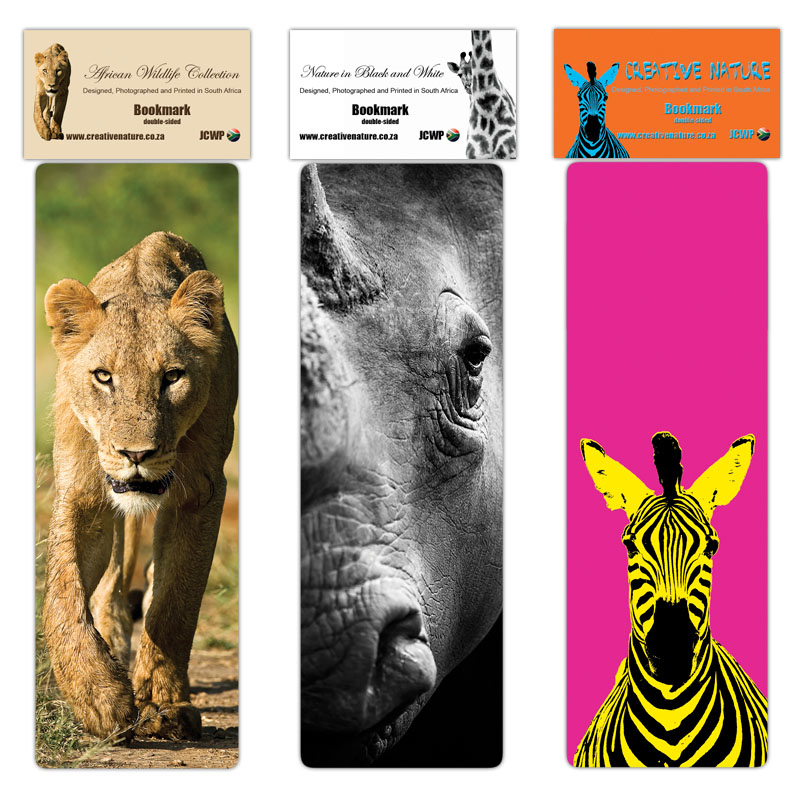 Our bookmarks consist of a selection of images from our 3 ranges. All are double-sided and finished with an eyelet and thread. Each bookmark comes individually packaged, giving the product longevity and giving a little added value. Our bookmarks measure 155mm x 55mm and are printed on high quality card stock. They are lovely gifts for nature lovers and excellent as lightweight take home presents for visitors from abroad. As always, please feel free to get in touch with any questions on info@creativenature.co.za
Remember that we also have a special hanging layer available with our point of sale units, which is ideally suited for displaying bookmarks, fridge magnets and keyrings.
You can download and browse the PDF catalogues by clicking the banners below…



Our Philosophy
Creative Nature makes an exciting variety of creative image products for the curio and tourism markets. If you have a passion for nature and wildlife there is sure to be something here that will excite! We work hard to make sure that all of our products are to the highest standard, offering you something interesting and unique. We aim to make products that sell and are continuously evolving and developing all of our ranges. If you have any comments or questions, we're always listening and always happy to help…
Shout at us on info@creativenature.co.za