Our range of birthday calendars is prepared from the exclusive Creative Nature image archive. These wall hanging calendars can last forever and are perfect reminders for all of those important dates and occasions throughout the year. They also make wonderful gifts to take home as souvenirs from South Africa.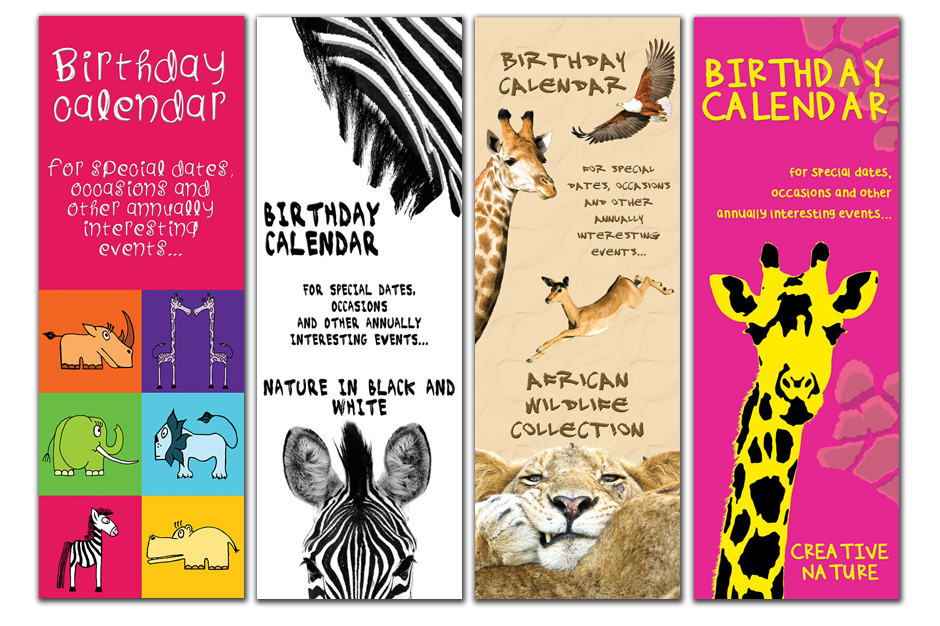 Birthday calendars feature all 365 days of the year (and a special space for leap years!). They are not however specific to any one year and so can be used year after year as a reminder of all of those important dates and occasions.
Birthday Calendars
In the standard size (297mm x 105mm) we have 3 calendars: African Wildlife, Nature in Black and White and the Creative Nature. Click the banner below to download the PDF catalogue…

All calendars are printed on quality card stock. They are all wiro bound with a hanging hook and are individually sealed so to prevent damage while on your shelves. The back page features a preview of the entire calendar so that customers know exactly what to expect when they open it up.
Our Philosophy
Creative Nature makes an exciting variety of creative image products for the curio and tourism markets. If you have a passion for nature and wildlife there is sure to be something here that will excite! We work hard to make sure that all of our products are to the highest standard, offering you something interesting and unique. We aim to make products that sell and are continuously evolving and developing all of our ranges. If you have any comments or questions, we're always listening and always happy to help…